Weekly Mass Times & Reconciliation
Weekday Mass Times
Tuesday to Saturday: 9:00am
Every 3rd Thursday of the month: Anointing Mass 10:00 am (except January)
Sunday Mass Times
Vigil Mass 5:30pm
Sunday 7:30am & 9:30am
Family / Youth Mass - 1st and 3rd Sunday (except January) 6:00pm
Reconciliation
Saturday 4:45-5:15pm
or any time by request
Rosary in Honour of Our Lady
Following Wednesday morning Mass
Adoration
On last Friday of the month at 7:30pm
Support our
seminarians
to answer
God's call
PLEASE GIVE GENEROUSLY
TO THE BISHOP'S GOOD
SHEPHERD APPEAL
For God so loved the world that he gave his only Son, so that everyone who believes in him may not perish but may have eternal life.
John 3:16
Your gift supports our parishes to share Christ's message of love and salvation with all
For information regarding Penance, Confirmation and Eucharist, please use the button below.
These documents are downloaded by parents so they can be completed and returned to the parish.
For more information on baptism and wedding arrangements, please use the buttons below, or contact the Parish Office.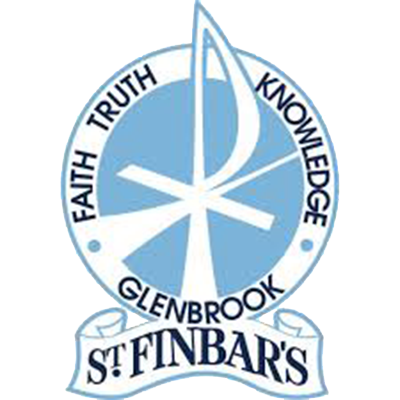 St Finbar's, Glenbrook provides a comprehensive education for boys and girls from Kindergarten to Year 6. The school lives by its motto: "Living our faith in daily life, seeking truth in our relationships and building our knowledge".
St Finbar's is at the forefront of education providing a comprehensive learning program. It has special education and learning programs to support and enrich the learning needs of students. Children are encouraged to participate in a number co-curricular and community activities.
Children learn in a well resourced, comfortable and safe environment. The school is proud of what has been achieved with our supportive parent community, with parents participating in a wide variety of school activities.
Address:
46-52 Levy St, Glenbrook NSW 2773
PO Box 123, Glenbrook 2773
Phone: 02 4742 6958
Email: glenbrook@parracatholic.org
Parish Office Hours:
9:30am - 3:00pm Tuesday to Friday